#ArchiTalks: Bourbon. Every architect's friend.
Note: This is the fifteenth post in a group series called #ArchiTalks in which Bob Borson of Life of an Architect gives a group of us architects a theme or a set of questions and we all have to post our response… this month's theme: from an architect's table.
My table can be filled with a variety of things. Sometimes it's takeout and #AREsketches and bourbon. Sometimes it's a (sadly rare) home-cooked meal and house plans and bourbon. Sometimes it's leftovers and card games with friends and bourbon. I know what you're thinking: "Man! She always has bourbon at the table!" Don't worry, I also sometimes have it on the couch.*
So of course I'm going to give you a bourbon recipe for the bonus #ArchiTalks about thanksgiving recipes for our table. This pie is a staple in my family. And coming from the midwest, the land of the Kentucky Derby and tasty bourbon – of course that's going to turn into a dessert. Your treat to your tastebuds from yours truly is none other than a Kentucky Bourbon Pie (lovingly referred to in some circles as "Derby Pie").
Let's break it down. You can find the full recipe here, but the step-by-step instructions with images (I wouldn't be a type A architect otherwise 😉 ) are below for your viewing pleasure – including a video from start to finish!
Get your ingredients. This pie isn't made out of air. It's rich and delectable (chefspeak for "your tastebuds will thank you later"). That means there's going to be butter and sugar and all sorts of other things that your waistline may not like. That's why you make it at Thanksgiving. Share it with others.
Here's what you need:
Pie Crust:
1-3/4 cups all-purpose flour, plus more for rolling
1/4 teaspoon salt
1/2 teaspoon sugar
1 stick chilled unsalted butter, cut in pieces
3 tablespoons ice water
Filling:
2 large eggs
1 cup sugar
1 stick unsalted butter, melted and cooled
1/4 cup Maker's Mark® Bourbon
1-1/2 cups walnuts, toasted and coarsely chopped
1 cup semi-sweet chocolate chips
Add the flour, salt, and sugar and mix. Chop up the softened butter into pieces and add to the dry mix. As it starts clumping, add water. When it starts binding (think wet clay), you can stop mixing. Remove the mixture from the mixer and ball it up. Try to refrain from making architecture models with it. Shape it into a disc and put it in plastic wrap. The recipe says put it in the fridge for an hour, but this is fridge-specific. It just needs to be cold and dense (like that horrible boss you once had). My fridge took 30min.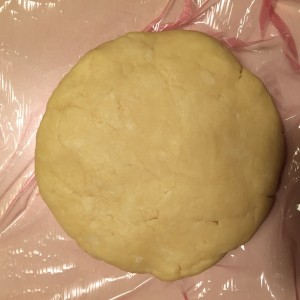 While this is cooling, you can make the filling. Put the eggs in the mixing bowl (I was always taught to add these first on the off-chace of shell, so that's habit now). Then add the sugar and mix. Melt the other stick of butter while this is mixing, then add. Now comes time for the liquid gold. The recipe calls for  1/4 cup. I wouldn't add less until you've tried it at that amount first. You can go with more if you like the flavor. Don't make it too boozy, though. Remember your table compatriots may not enjoy that taste (you should consider better friends). Also remember that cooking it bakes out the booze – you're better off putting that extra bourbon in your glass to ensure you can deal with crazy Aunt Betty who only wants to talk about the refugees or that tightly-wound OCD relative of yours.
Once the bourbon is mixed in, add in the flower. Then add the walnuts (you can do pecans if that's the nut you prefer, no judgement). When it's all mixed together it should look like this: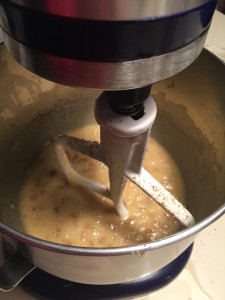 If you've hit the 30min mark, you can take the pie crust out of the fridge and prepare it. Hint: now is also a GREAT time to turn on your oven to pre-heat at 350. Clean a surface big enough to roll about 15″ in each direction on, sprinke with flour and pat the crust similarly. Then get to rolling. You should aim for about 12″ in diameter. When that's prepared, I add a step.
Use pam to lightly coat the pie pan and then sprinkle flour within. Tilt and pat the pan until it is evenly coated. This will make for an easier clean-up (which means you can get back to the bourbon faster 😉 )
If you were comparing notes, you'll notice I skipped the Maker's step of mixing in the chocolate chips. That's because I prefer an even distribution coating on the bottom of the pan. Think of it as the finished bed of gravel/sand mix on which to pour your concrete. You'll thank me later when you have deliciousness in every bite. Also, don't use milk chocolate. You're an adult now and should have a refined palate. You could probably use dark chocolate with its bite, but definitely not milk.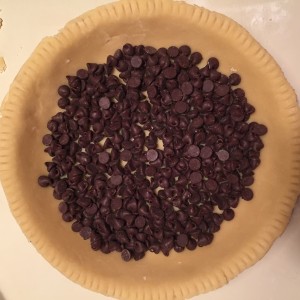 Time to pour on the filling! Give it one last mix (you can use the spatula) and then pour it in, evenly distributing the mix. Think of this as the concrete pour for the foundation of delicious goodness. You don't want to pour from too high and make a mess of the base and separate the mix. You also want to make sure the aggregate (nuts) are evenly spread throughout.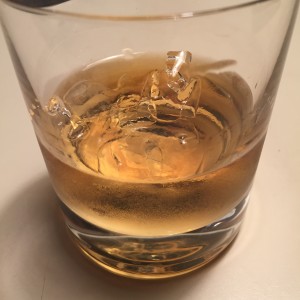 Now that you're set and ready to go, it's time to add to the oven. 30min, or until lightly golden brown on top. You made a Derby Pie! Celebrate – pour yourself a bourbon and relax and wait for that yummy goodness to be ready.
But wait!
You probably had leftover pie crust, unless you're a chef hiding in disguise. Being the sustainably-conscious architect that I am, this is a BONUS bonus #ArchiTalks. Time to make rolling balls!
Wad up the pie crust and roll it back out flat. Aim for more rectangular than square. When it's as thin as you think you can make it, paint the top with melted butter. Then sprinkle on some cinnamon and paint it around. Then sprinkle on some sugar. Roll it up from one end like a sleeping bag. You want the overall size to be no bigger than a nickel, so if you ended up rectangular you'll have to cut it in half. Roll the other half up similarly. Then dice them up, no bigger than 1/4″ sections, and place them on a (lightly pam'd) cookie sheet and pop them in the top rack of the oven. They only need 8-12 minutes but come out looking quite tasty!
If you of the #ArchiTalks community prefer your rolling balls iced, simply whip up a water/powdered sugar mix, drizzle and voila!
And so you have it. A bonus #ArchiTalks of Kentucky Bourbon Pie and a BONUS bonus #ArchiTalks. If you want to see it all in action, watch the link below. Otherwise skip to the bottom and check the #ArchiTalks from others.
Until next time,

*Before you go calling AA on me, please realize that this is an embellishment. I don't have bourbon every night….I appreciate other spirits on bourbon's night off. I'm all about equality. 😉   To see the take on "
architect's table
" from other Architects, follow the links to the others in the #ArchiTalks group who are posting today on the theme:
Bob Borson – Life of an Architect
(@bobborson)
"

The Texas Architect's Special Margaritas"
Jeff Echols – Architect of the Internet
(@jeff_echols)
"

This Thanksgiving: Something New"
Mark R. LePage – Entrepreneur Architect
(@EntreArchitect)
"

From My Table To Yours"
Matthew Stanfield – FIELD 9 Architecture
(@FIELD9arch)
"

Thanksgiving Feast…"
Michael Riscica – Young Architect
 (
@

YoungArchitxPDX
)
"

The Architect's Postmodern Thanksgiving!"
Michele Grace Hottel – Architect
 (@mghottel)
"

"From an Architect's Table" Dolly Brown's Pumpkin Pie"
Meghana Joshi – IRA Consultants, LLC
 (@MeghanaIRA)
"

Archtalks from an Architects Table"
Amy Kalar – ArchiMom
(
@AmyKalar) "

ArchiTalk #15: From An Architect's Table"
Rosa Sheng – Equity by Design
 (
@M
issing32Percent)
"

Hacksgiving – A Hacker's Thanksgiving"
Brian Paletz – The Emerging Architect
(@bpaletz)  
"

All In the Family"
Eric Wittman – intern[life]
(@rico_w)
"

giving thanks and [wine]ing"
Emily Grandstaff-Rice –
(@egraia)
"

Unplug Tradition"
Eric T Faulkner – Rock Talk

 
(
@wishingrockhome
)
"

Archi-Table – Any Berry Salad"
Jarod Hall – di'velept

 
(
@divelept
)
"

UTAH = JELLO"