#ArchiTalks: I love it!
Note: This is the ninth post in a group series called #ArchiTalks in which Bob Borson of Life of an Architect gives a group of us architects a theme or a set of questions and we all have to post our response… this month's theme: three words.
No, not necessarily the Icona Pop/Charlie XCX style, because I do care. But sometimes the intricacies actually do blur. Let me explain…
As architects, we have spent – and will continue to spend – most of our lives looking at things, studying them, figuring out their merits, and figuring out how they may or may not help our project work. That may sound very vague, but that's because each project is different. Through all of this searching and learning, we make associations in our brain, and more importantly we make decisions that define styles and things we love. Sometimes that means when we see a product, 12+ things go through our mind: precedents we've seen it used in, have we seen it fail, is it costly, is it sustainable, do we subjectively like it for its aesthetics based on the general style we're looking for, etc. And sometimes all of that happens in a split second and all that comes out of our mouth is "I love it."
I'll give you two viewpoints of this…
How I embody this process
As my family and friends will attest, I manifest this daily. Occasionally it comes out in stubbornness and perfectionism: I know how I want something to look based on precedents and ideas. In other instances it shows itself in mild and (as my mom would agree, growing up) time-saving ways. Example:
Shopping is a short process for me, typically, unlike most other girls/women. Growing up, I could walk in a store, look quickly, know if I see anything I like, and be done. Part of this I think is how our (creative) brains work visually. I have an idea of what I'm looking for already, based on precedents (magazines/shows, what I currently own, etc), cost, and aesthetics (does it look/feel good to me). If I see something within those parameters, great. If not, I'm done with the store. The only time when this is negative is if I'm looking for a very specific thing and just don't know where to find it. This can apply to shopping for clothes, gifts, or stuff for #ThisOldHouse.
The inverse: making an idea come to life and trying to describe why "I love it." Those 12+ steps that I first mentioned? Sometimes they happen rapid fire internally, so when you exclaim "I love it!", you may not be explaining why. Example:
I've come across this more than a couple times with my dad (papa elf) as he helps me on #ThisOldHouse and while the first instances felt exasperating (why can't you see why this is awesome?!), I now see it as a way to explain the process of deduction and thoughts that lead to the decision, similar to how you would with a client (more on that later). In most cases, he gets it after a couple points. In other cases, I'm just left with the defense of "Trust me, I can see it. Once we build it, you'll love it too." The most recent version of this was the design detail for the pendant lights on either side of the master bed in #ThisOldHouse.
I started drawing the detail back in November. I had seen variations of it in a couple different places, loved the clean lines, and could visualize my own version of the detail in my bedroom space. My dad…not so much. Ever the pragmatist (he's a mathematician, he gets it honest – and I get it from him when I'm not daydreaming), we walked/drew through 4 or 5 iterations of the detail so that it made sense to him – at least in how to construct it. He didn't necessarily understand the idea of the sightlines making the pendants float, but it was a "please trust me" moment.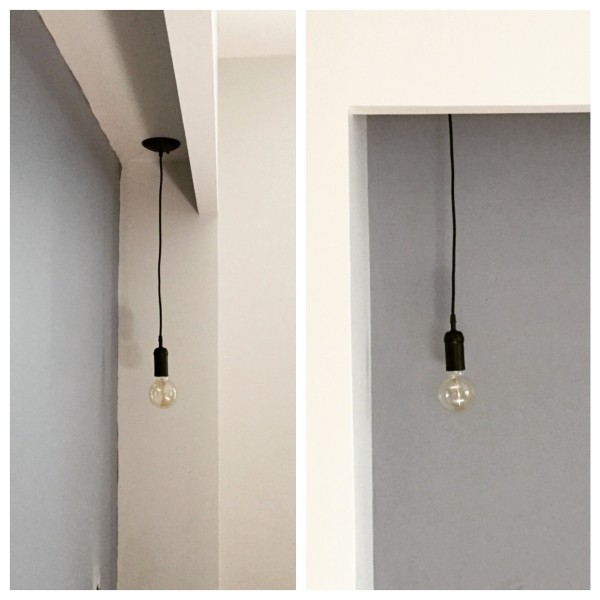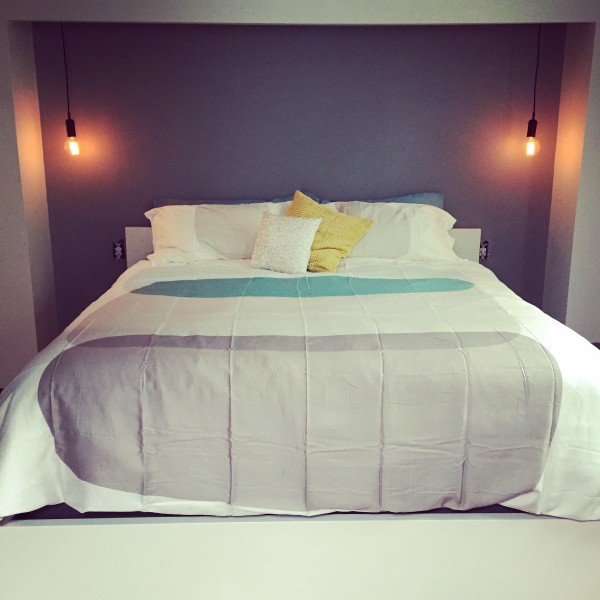 Guess what? When we finished building it, I painted it, and we installed the pendants, he said, "Yeah, I see it now." I think that's about as close as I'll get to an "I love it" from him, but I'll take it.
How this helps me as an architect
All of that information I mentioned we take in and connect internally means we can make those decisions on the fly on a project. It also means we're, on average, passionate people and even more passionate about our creations. Having said all of that, we rarely occupy our own works. That's for the client. Which is why we spend so many meetings getting your (client) feedback – some of which happens before we even put pen to paper. This is where those associations come in handy. If we are having an initial meeting about designing your future home and you say "I really love the Farnsworth House," we as architects will immediately cross off a variety of other housing typologies in our brains. Farnsworth in no way equals Italianate – so there's no point in showing you cupola details.
The next question is probably something like: "What about it do you love?" One client may love the clean lines but want more exterior privacy on their urban lot; another might love the floor-to-ceiling glass views because they are building on substantial acreage and privacy is less of a concern than being able to see the landscape…
And so more questions will be asked, getting more and more detailed through the design process. Picture a very long, more complex version of the 80s/90s board game "Guess Who"…All to get to the moment (or moments) in the project where you say your own version of "I love it!"
So the next time you see us devouring information, passionately holding our ground on a design detail, or exploring a city and acting as a tour guide to our friends and family because somewhere, at some point, we've read about it – give us a hug, or at least a break. We're passionate about what we do, learning along the way to better decipher whether you meant "Bob with the glasses, white hair, and mustache" (modernist), or "Betty with the white hair and pearl earrings" (traditionalist). We want to get you the right answer/design and we'll keep striving to make sure we do so.
And most of all, know we love it.
Until next time,

To see the take on "three words" from other Architects, follow the links to the others in the #ArchiTalks group who are posting today on the theme:
Bob Borson – Life of an Architect
(@bobborson)
"3 Words: Are. Blogs. Important."
Jeff Echols – Architect of the Internet
(@jeff_echols)
"

What's Your Story – My Three (or Four) Favorite Words

"
Mark R. LePage – Entrepreneur Architect
(@EntreArchitect) 
Marica McKeel – Studio MM
 (@ArchitectMM)
"

Never Give Up"
Lee Calisti – Lee CALISTI architecture+design
(@leecalisti)
"

i make art"
Matthew Stanfield – FIELD 9 Architecture
(@FIELD9arch)
"

3 Words"
Evan Troxel – Archispeak
 (@etroxel) 
Cormac Phalen – Archispeak
 (@archy_type) 
Andrew Hawkins – Hawkins Architecture, Inc
 (@hawkinsarch)
"Three Favorite Architectural Words"
Jeremiah Russell – Rogue Architecture
 (@hawkinsarch)
"

three little words: #architalks"
Jes Stafford – Modus Operandi Design
 (@modarchitect)
"

I Am Listening"
Enoch Sears – Business of Architecture
 (@businessofarch)
"

3 Words To Get Started"
Michael Riscica – Young Architect
 (
@

YoungArchitxPDX
)
"

How's it going… Finishing The Architect Exam?!??"
Michele Grace Hottel – Architect
 (@mghottel)
"

architalk#9: my three favorite words"
Meghana Joshi – IRA Consultants, LLC
 (@MeghanaIRA)
"

My Three Favorite Words
Rosa Sheng – Equity by Design
 (
@M
issing32Percent)
Stephen Ramos – BUILDINGS ARE COOL
(
@

sramos_BAC
)
"

My Three Favorite Words"
Brian Paletz – The Emerging Architect
(@bpaletz)
"

I am in"
Jonathan Brown – Proto-Architecture
(
@

mondo_tiki_man
)
"

The Big Idea"
Eric Wittman – intern[life]
(@rico_w)
"

my three favorite [hardest] words"
Cindy Black – Rick & Cindy Black Architects
 (*)
"

Spirit of Optimism (my three favorite words)"
Amy Kalar – ArchiMom
 (@AmyKalar)
"

My Three Favorite Words (Architalks #9)

"