#ArchiTalks: My first project
Note: This is the fourteenth post in a group series called #ArchiTalks in which Bob Borson of Life of an Architect gives a group of us architects a theme or a set of questions and we all have to post our response… this month's theme: my first project.
My first project. First. It's a word that has so many interpretations and yet one, all depending on where you set the moment in time. In previous #ArchiTalks, I've written about the pieces of my story and why I am an architect, both giving glimpses of projects along my timeline. I think each and every little thing adds up to the continuation of your (hopeful) growth as a person and in your career, so I decided to peer allllll the way back into the time capsule of yellowing prints to see what some of my first projects were. I was at peace when I was busy with my hands: building, drawing, coloring, making. It was probably an early sign of a profession to come, but I'm sure my parents were equally as happy that I preferred these ways to pass the time compared to sitting in front of a TV – even if I went through lots of chapstick from constantly sticking my tongue out in concentration.
The biggest "first" project along the timeline, though, was a 5th grade science project. Evidently the little sustainability-driven architect was starting to show herself and I didn't even know it at the time. I just thought it was a cool project that let me build, and had a lot more real-world application than alka seltzer volcanoes. What did I do, you might ask? I did a study on how color affects temperature in a building.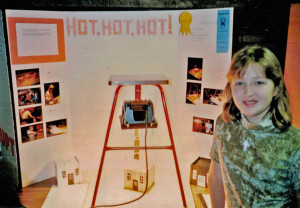 Please don't focus on the velvety puke-green top, feathered bangs, or (typical) stress-induced cold sore. But look instead at those sweet popsicle stick houses! This was not only something that taught me about the importance of color, ironic given my clothing choice, but also gave me valuable project time in grandma and grandpa's basement learning from them. I don't know many grandparents who teach their grandkid how to use a jigsaw at 6, or about albedo and reflectivity at 10. They nurtured those interests in me and for that I am forever grateful. This is honestly the first project that I remember doing that had a very specific connection to what I do now. Sure I colored and drew and played with lego and erector sets…but testing the temperature with a baking thermometer of different "homes" of different colors? Yup, little architect in the making. I wonder if my parents had an idea that I was headed towards this profession with the completion of this project?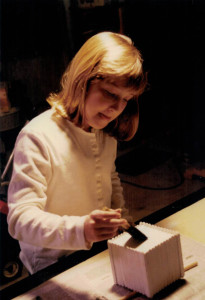 Now that I've sufficiently embarrassed myself with my pre-braces, "i don't care about my hair or what I wear" years, I'll try to get to the meat of what I think this topic means. I could have posted my first studio project, or thesis, or first intern project, first full time job project, first project as an architect, etc. But to me this #ArchiTalks topic is getting at the root of what inspires you. What did you learn from it, what made you WANT to learn from it, and all the "whats" and "whys" in between. I knew that I loved building and working with my hands, but I didn't know why then. I also knew from that moment on why the black soccer jerseys we had to wear on my travel team were so. darn. hot. I knew when it came time to buy a car in Mississippi, that it was stupid to buy black on black, no matter how sleek it looked. I learned the process of an objective take on a problem, which has probably taken me the furthest in all of the learnings on that project. Matte is not the same as glossy, and you'll get a different temperature reading if you compare a house under the lamp when the bulb is cold vs the next house after an hour and the bulb is blazing hot.
In a world of performance specifications and designing within tolerances – yes, architects do more than draw all day – understanding what makes "apples to apples" vs "apples to zucchini" is important. There's also an eagerness that a "first" project brings. The territory of the unknown and desire to learn something new that causes you to throw yourself at the task with abandon. The intrigue of what makes it tick and how to best design it to move forward. This combination of passion and objective learning is key to every first and future project in architecture. Because at the end of the day, the project isn't for you, it's for a client. You have to know how to be objective and search all of the options on their behalf. They hired you as the professional and they're counting on you to remember back from that first project, or fifth, or twentienth…and use what you learned to help them create the best space possible. While it may be the culmination of learnings all the way back to your first project, this may be their ONLY project. So go give your all and never stop learning.
Until next time,

To see the take on "first project" from other Architects, follow the links to the others in the #ArchiTalks group who are posting today on the theme:
Bob Borson – Life of an Architect
(@bobborson)
"

My First Project: The Best Project Ever Designed That Wasn't"
Jeff Echols – Architect of the Internet
(@jeff_echols)
"

My First Project – Again"
Mark R. LePage – Entrepreneur Architect
(@EntreArchitect)
"

Our First Architecture Project [#ArchiTalks]"
Marica McKeel – Studio MM
 (@ArchitectMM)
"

My "First Project""
Lee Calisti – Lee CALISTI architecture+design
(@leecalisti)
"

first project first process"
Michael Riscica – Young Architect
 (
@

YoungArchitxPDX
)
"

The Early Years of My Architecture Career – My Role"
Michele Grace Hottel – Architect
 (@mghottel)
"

My First Project"
Rosa Sheng – Equity by Design
 (
@M
issing32Percent)
"

Why every project is my "First""
Stephen Ramos – BUILDINGS ARE COOL
(
@

sramos_BAC
)
"

Help with South Carolina's Recovery Efforts"
Eric Wittman – intern[life]
(@rico_w)
"

[first] project [worst] crit"
Brady Ernst – Soapbox Architect
 (
@bradyernstAIA
)
"

I Hate Decks

"
Sharon George – 

Architecture By George
 (
@sharonraigeorge
)
"

My First Project – The First Solar Decathlon #Architalks"
Emily Grandstaff-Rice –
(@egraia)
"

Project Me"
Eric T Faulkner – Rock Talk

 
(
@wishingrockhome
)
"

The First One — A Tale of Two Projects"
Daniel Beck – The Architect's Checklist

 
(
@archchecklist
)
"

Fake it 'til you make it"
Jarod Hall – di'velept

 
(
@divelept
)
"

Define First?"
Anthony Richardson – That Architecture Student

 
(
@thatarchstudent
)
"

my first project"
Drew Paul Bell – Drew Paul Bell
(@DrewPaulBell)
"

My First Project"
Jeffrey A Pelletier – Board & Vellum
 (
@boardandvellum
)
"

Top ten tips when faced with a challenging Architectural project"
Aaron Bowman – Product & Process
 (
@PP_Podcast
)
"

Community 101″
Samantha Raburn – The Aspiring Architect
 (
@TheAspiringArch
)
"

6 Major Differences between my 1st School Project & my 1st Real Project"
Kyu Young Kim
– Palo Alto Design Studio
 (
@sokokyu
)
"

My First Project – The Contemporary Cottage"
Nisha Kandiah -TCDS
 (
@SKRIBBLES_INC
)
"

The Question of the Beginning"