#ArchiTalks: Work/life…attempts
Note: This is the twelfth post in a group series called #ArchiTalks in which Bob Borson of Life of an Architect gives a group of us architects a theme or a set of questions and we all have to post our response… this month's theme: work/life.
The irony is not lost on me that I'm writing this on the Labor Day holiday when most are out barbecuing or grilling with friends and family. This is one of the many reasons I'm writing about my *attempts* at work/life balance.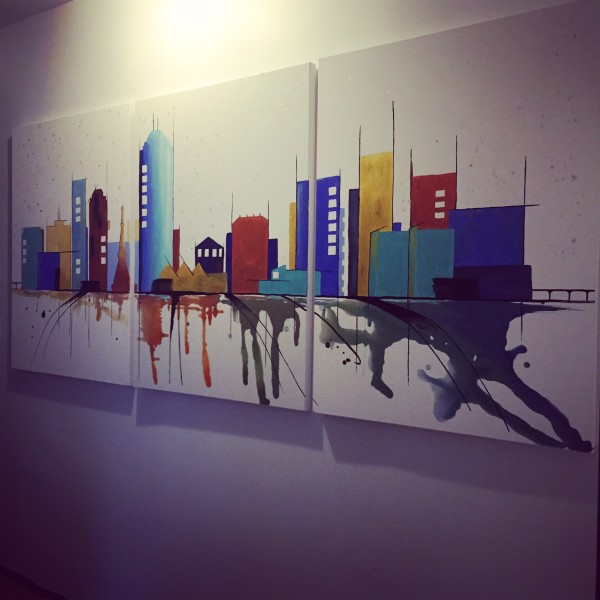 This balance looks different to me for a variety of reasons, the first being that I'm noticing a different take on what I label as "work" vs what others do. Creativity is my lifeblood, so spending 8 hrs over 3 nights to make a painting is relaxing to me, whereas others would find it tasking and burdensome – like work. Yes, I work 40+ hours a week, at a place that has all of the common perceptions of what one would call work. But outside of the occasional day or meeting, I thoroughly enjoy what I do. This is not something that everyone can say. It's not something I could have said 4 months ago, so I realize and am very grateful for my ability to say it now. At lunch I might take a walk around downtown to grab a bite to eat or simply sit somewhere with food I brought from home. Spending time outside or chatting with friends over food helps me relax midday and come back to the office rejuvenated and ready to go.
When I leave work for the day I might do any of a couple things. This is where "work" gets gray become some of these things might seem like work to others:
Prepare for or attend an AIA or YAF meeting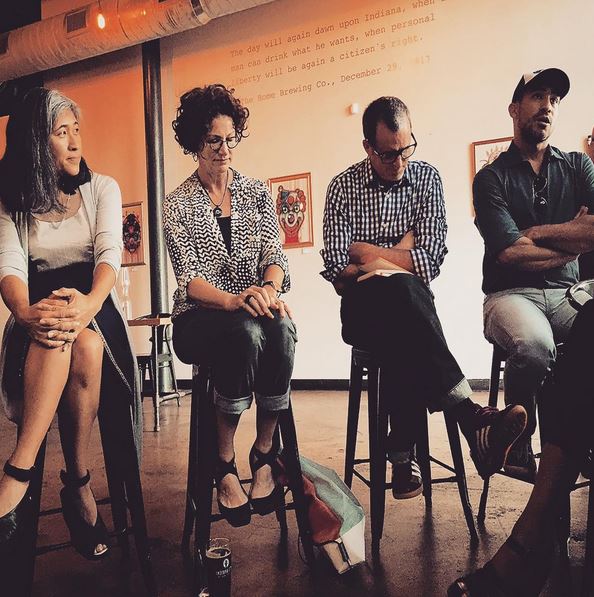 This one can obviously seem like work to some, but I enjoy volunteering for both of these organizations and the camaraderie between professionals that comes out of it. We've been working hard to provide great talking points or access to experienced professionals in the recent and upcoming YAF events, so it's always great to meet up with fellow young professionals and talk about our progress and pinch points in the last month. AIA Indianapolis has been providing some knock-out speakers this year, so it never feels like work to go have a drink and mingle and then fuel my fire with some awesome architecture thoughts from people doing great work in the profession.
Hang out with my small group
About a year and a half ago, I finally found a really great church after moving back to Indy during my divorce. They welcomed me like family and helped me through some of the toughest moments in my life thus far. I now have an even smaller church family within this community and we meet once a week to cook dinner together and relax.
Work on #ThisOldHouse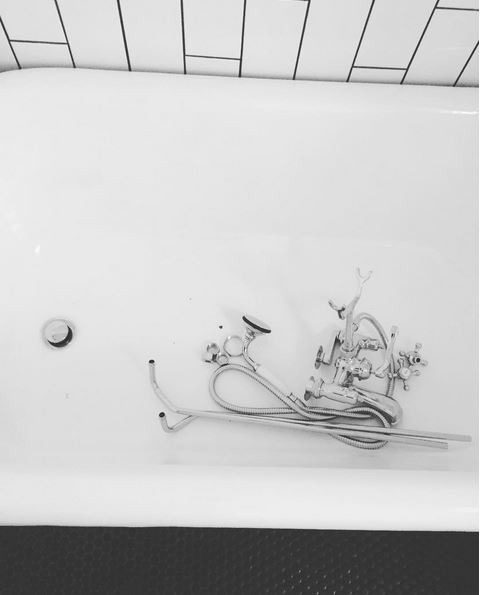 This is another gray area subject for most. I don't know many people who would be okay with coming home from an 8-9 hour day to work 2-5 more hours on a variety of tasks: painting, demo, installation, cleaning, planning, construction, etc. For me, however, this is not work. This is my home and my design lab. I love seeing my ideas go from paper to reality, and this space offers that opportunity constantly.
Grab a drink or dinner with friends or family
I try to do this at least once a month with both sides of my family and each of my friends. Sometimes this timeframe is longer, sometimes it's shorter. Lately it's been a lot more multi-tasking and grabbing a bite or a drink during or after one of the other events mentioned above. Especially if that event provides a free drink. #ThisOldHouse has put the hurt on my budget temporarily as I save up for the next project, so I've gotten a bit more creative about how I hang out with friends, but it's still something I try to do regularly.
Get a project finished for L²
My business is still very much a side business. While I've now owned it for 4+ years, it was never easy to consistently create a revenue stream when I was moving around to wherever the military wanted us next. This last year and a half has been the most profitable by far, and I'm slowly integrating some options for passive income. Those things that are passive over time, however, require some upfront work – sometimes in substantial ways. Other times I may be finishing an active income project by way of a set of home plans or custom stationery from my etsy shop.
Read a book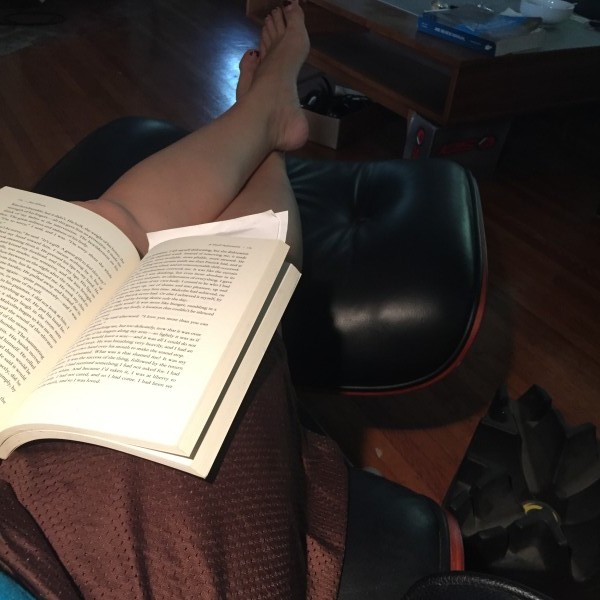 I try to read a book a month. There are months where I read more and there are months when I don't meet that target. I try to rotate between subjects: business or (auto)biography, design, and fun. These times help me dream and create more vividly as well as relax – not in front of a TV.
I had friends mention that they don't know where I find time to do all of these things, but it's important to remember that there's one "life" aspect that I've yet to mention which takes up much of the time of those who question where I find my time: a spouse or kids. Many times when friends ask how I find the time for something, I stop them and make them remember that they are blessed with different responsibilities that fill their work/life balance scale. When I'm volunteering or meeting a friend, they're picking up a kid from soccer or band practice. When I'm up working on #ThisOldHouse late into the night, they're just getting home from a relaxing date with their significant other. I hope that I am someday blessed with those life responsibilities, but for the meantime I will keep volunteering.
That doesn't mean I'm not trying to find that someone to share those moments with, though. So it's worth mentioning, mostly because I can now laugh at these moments and I know you will too, my failed attempts of late on the life side of the scale.
Dating, or lack thereof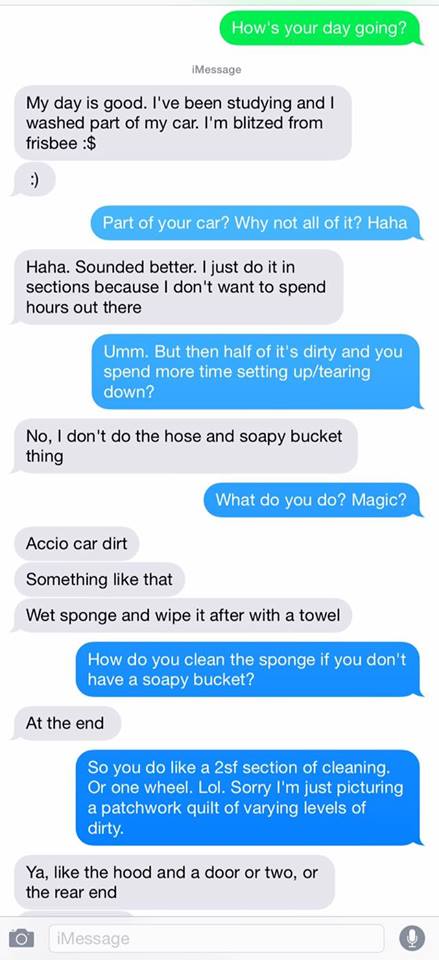 These two examples are a good, brief glimpse at the dating pool. The first was an opening line from him (that went unanswered). The second was a text stream (I'm blue, if that wasn't obvious) that preceded this same guy standing me up on a date. His patchwork wash patterns should've been clue enough. You live, you learn. You can imagine why I'm underwhelmed.
The important thing to realize is that, outside of a crappy dating life, all of these things fuel my fire…each in their own little ways. This is what balance means to me, the give and take. At work and with L², I give effort and I get experience (and money). With the AIA and YAF, I give effort and time and I get experience, network, mentorship, and leadership opportunities. With #ThisOldHouse, I give effort and get experience and a continually better place to lay my head and call home. With friends and family, I give time and get my soul fed – either in laughs, the silence of understanding, or the hugs of support. With reading, I get time to re-center, learn, and rest. With dating – well…I'll let you know when I find out. I will say it allows me to continually re-question and evaluate what I want in life and what I want my future to look like.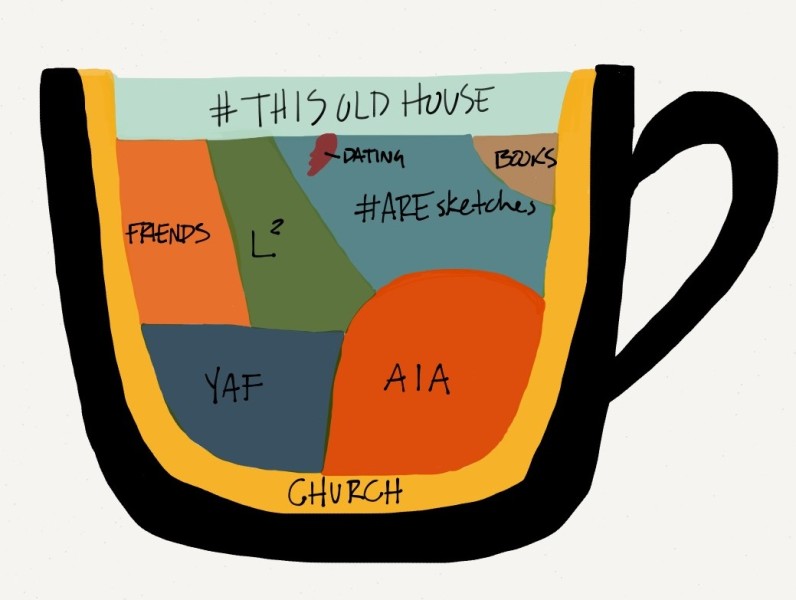 But all of these things, at the end of the day or week or month, add up to a full cup of a healthy and happy me. Every month the portions are different but the outcome is the same. There are things that used to be on this list that aren't anymore, either because something else took priority or because I re-evaluated and realized they weren't filling the cup to make a happy and healthy me, but eroding the cup like an acid and creating holes for the other parts to flow out of, leaving all of me empty. That's never a good state to be in. So I check my work/life balance frequently to make sure I'm keeping the cup full, knowing the ways in which I do will constantly evolve, and fully okay with that so long as it ends up in a full cup.
Who knows, hopefully some day I'll trade in some of those hours in one category for a husband and kids, and look at the young architect I'm mentoring and ask them where they find the time to do all of the things they do.
Until next time,

To see the take on "work/life" from other Architects, follow the links to the others in the #ArchiTalks group who are posting today on the theme:
Bob Borson – Life of an Architect
(@bobborson)
"

Work | Life – Different Letters, Same Word

"
Jeff Echols – Architect of the Internet
(@jeff_echols)
"

The One Secret to Work – Life Balance"
Mark R. LePage – Entrepreneur Architect
(@EntreArchitect)
"

Living an Integrated Life as a Small Firm Architect"
Marica McKeel – Studio MM
 (@ArchitectMM)
"

Work/Life…What an Architect Does"
Lee Calisti – Lee CALISTI architecture+design
(@leecalisti)
"

work | life :: dance

"
Matthew Stanfield – FIELD 9 Architecture
(@FIELD9arch)
"

Work / Life : Life / Work"
Evan Troxel – Archispeak
 (@etroxel) 
Cormac Phalen – Archispeak
 (@archy_type) 
Andrew Hawkins – Hawkins Architecture, Inc
 (@hawkinsarch) 
Jeremiah Russell – Rogue Architecture
 (@hawkinsarch)
"

what makes you giggle? #architalks"
Jes Stafford – Modus Operandi Design
 (@modarchitect)
"

Turning Work Off"
Enoch Sears – Business of Architecture
 (@businessofarch) 
Michael Riscica – Young Architect
 (
@

YoungArchitxPDX
)
"

I Just Can't Do This Anymore

"
Michele Grace Hottel – Architect
 (@mghottel)
"work/life"
Meghana Joshi – IRA Consultants, LLC
 (@MeghanaIRA)
"

Architalks: Imbalanced and uninterrupted

"
Amy Kalar – ArchiMom
(
@AmyKalar) "

ArchiTalks #12: Balance is a Verb"
Rosa Sheng – Equity by Design
 (
@M
issing32Percent)
"

Work Life Fit: A New Focus for Blurred Lines"
Stephen Ramos – BUILDINGS ARE COOL
(
@

sramos_BAC
)
"

An Architect's House

"
Brian Paletz – The Emerging Architect
(@bpaletz)
"

I am what I am…"
Tara Imani – Tara Imani Designs
 (
@

P
arthenon1)
"

On Work: Life Balance – Cattywampus is as Good as it Gets"
Eric Wittman – intern[life]
(@rico_w)
"

midnight in the garden of [life] and [work]"
Brady Ernst – Soapbox Architect
 (
@bradyernstAIA
)
"

Brady Ernst – Family Man Since 08/01/2015

"
Sharon George –

Architecture By George
 (
@sharonraigeorge
)
"

Work = 1/3 Life

"
Emily Grandstaff-Rice –
(@egraia) 
Collier Ward – 

Thousand Story Studio

 
(
@collier1960
)
"

Work/Life

"
Eric T Faulkner – Rock Talk

 
(
@wishingrockhome
)
"

Work/Life — A Merger

"
Daniel Beck – The Architect's Checklist

 
(
@archchecklist
)
"

Work Life Balance: Architecture and Babies – 5 Hints for Expecting Parents

"
Jarod Hall – di'velept

 
(
@divelept
)
"

Work is Life

"
Anthony Richardson – That Architecture Student

 
(
@thatarchstudent
)
"

studio / life

"
Lindsey Rhoden – SPARC Design

 
(
@sparcdesignpc
)
"

Work Life Balance: A Photo Essay

"
Drew Paul Bell – Drew Paul Bell
(@DrewPaulBell)
" Work/Life"