A Day in the Life of: An Almost Architect
Note: This is the fourth post in a group series called #ArchiTalks in which Bob Borson of Life of an Architect gives a group of us architects a theme or a set of questions and we all have to post our response… this month's theme: A Day in the Life of [your name here].
As you can see, I've already broken the rules. It was supposed to be "A Day in the Life of Lora Teagarden"…but that sounds quite boring. Us "almost-architects", we're rebels. We use the term "architect" (illegally) with friends and family to describe who we are and what we do…because it's easier than explaining the process of school + internships + dealing with NCARB + 7 tests (or was it 9? but soon 6? see: dealing with NCARB). We fall somewhere between Gen X and Millennials, who if you've listened to the Archispeak podcast about them, are known to not want to follow the mold (for better or for worse).
I know what you're thinking. An Almost Architect? So you do redlines all day and study all night, right? You're paid practically nothing (if you have a job) and work 80-hr weeks? While that last part might be true, it's of my own doing. Why? Partially because I'm masochistic, as are most Architects. But also partially because I'm energized to give back. And that's thanks to this group. Yes, I both blame them (silently) when I'm getting little to no sleep trying to keep up with their pace, and I thank them (on the interwebs or in person) when I hit each next step in the process for helping me along the way.
So without further ado, here's what it's like to work at a firm, study for the ARE, be active in the AIA, fix up a 125 year old house, take care of a #gorillapup, and try to have a social life (that last part may or may not be a joke). If you follow along on Twitter or Instagram, you might have seen some of these highlights.
Date: November 19th, 2014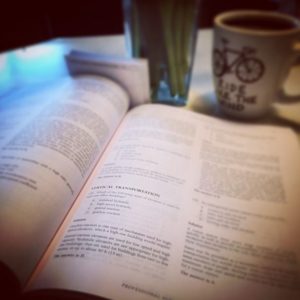 Mornings of late start with ARE studying. Not because I study best in the mornings. I actually loathe mornings (though I'm trying to change that). But because that's when I have to set aside time to study to get $#!+ done. I'm on my last test (editor's note: as of this blog publishing, the last test has been taken and I'm calmly impatiently awaiting my results) and I need to keep the momentum going or it won't get done until next year. There are too many other things calling for my attention, this is one of those moments where you learn the meaning of the word "priorities". Today it means: no sleep. time to study.
Priorities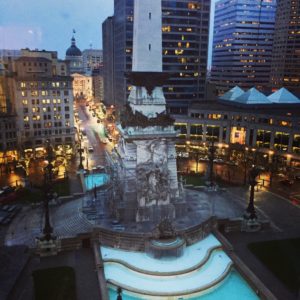 Around 8:30, after about 2hrs of studying, I head into work. Our work hours are 9-6 and I'm lucky enough to work at an office on the circle. So while it's 2 miles door to door for me, I try to give myself ample time to fight morning downtown traffic. I get in, pour my second cup of coffee for the day, and then check emails for project updates and make sure there's no pressing issues. As a graduate architect (the typical title used in Indiana for those with a degree en route to licensure) but also the Sustainability and Marketing Manager, I'm juggling 3 projects plus a proposal right now. In a small firm, this means every day reminds you of the meaning of the word "priorities". In a small firm, this also means you learn on the fly and sometimes it's up to you to prioritize. At the end of the day (or the deadline) it just needs to be done.
Lunch? Who needs lunch?
I know today is going to be a long one, so I head home around 11 to let out Madeleine, my standard poodle puppy. While letting her out and tossing the ball, I'm taking notes on ideas for my home renovations underway, which you can find on here, twitter, and instagram as "#thisoldhouse". I'm currently dealing with some issues with the bathroom renovations, namely how to lay the tile in the master bath and I find that sketching out my options seems to give me the best clarity for decisions. It also helps those helping me if they can see the vision in my head. Ergo: Sketching is good for everyone!
AIA Hat
I leave around 11:45 to head over to the Dallara IndyCar Factory where today's 5th Annual AIA Indiana Technology Symposium is being held. With major effort by the folks at Design 27, I'm wearing my AIA Indy PR Chair hat for the remainder of the day to help make sure this event goes off without a hitch. Part of that means lending some muscle to help finish setting up, aiding the AIA Indiana Executive Director with making sure the presentations by our guest speakers are ready to go, and working the registration table as the event starts to greet people and get them signed in for the day. Just as the first event is about to start, I need to head to the airport to pick up our keynote, Stephen Chung, an Architect from Boston who's coming to talk about his development of Cool Spaces, a tv show highlighting the interesting new things happening in architecture. Jeff Echols, a good friend and fellow #ArchiTalks member, was slated to pick him up, but got tapped to emcee for the symposium, so I offered to help out.
Dinner Conversation
The symposium went very well, but lest you think Architects are all work and no play, let me assure you, we had fun! Stephen and Jeff raced simulators and we took Stephen out for drinks and dinner downtown to show him a "cool space" in Indy.
My Takeaway
Much like my experience at AIA National this year (with what would become the #ArchiTalks crew), I sat at dinner and tried to soak in as much information from minds smarter than my own. These conversations, although sometimes about frustrating things happening in our profession, remind me why I want to go from "Almost Architect" to "Architect". I want to keep getting out in the world and helping our profession. Designing wonderful things that help our clients solve problems. And help the world solve problems. I want to be a positive role model so that when I use the word "Architect", I use it proudly, and those I meet know that we're here to help impact something bigger than ourselves for the better.
  To see how other Architects spend their days, follow the links to the others in the #ArchiTalks group who are posting today on the theme:
Bob Borson – Life of an Architect
(@bobborson)
"A Day in the Life of an Architect"
Jeff Echols – Architect of the Internet
(@jeff_echols)
"What To Do When You Lose Your Job In Architecture: A Day In The Life"
Mark R. LePage – Entrepreneur Architect
(@EntreArchitect)
"EA054: A Day in the Life of Mark LePage"
Marica McKeel – Studio MM
 (@ArchitectMM)
"A Day in the Life of a Small Firm Residential Architect"
Lee Calisti – Lee CALISTI architecture+design
(@leecalisti)
"a day in the life…part 2"
Evan Troxel
–
TRXL 
(@etroxel)
"A Day in My Life"
Matthew Stanfield – FIELD 9 Architecture
(@FIELD9arch)
"A Day in the Life of FiELD9: architecture"
Nicholas Renard – Cote Renard Architecture
(@coterenard)
"Another Day of Living the Dream"
Jeremiah Russell – ROGUE architecture
(@rogue_architect)
"a day in the life of a rogue architect"
Collier Ward
–
Thousand Story Studio
(@BuildingContent)
"A Day in the Life of an Architect"
Andrew Hawkins – Hawkins Architecture, Inc
(@HawkinsArch)
"Day in the Life of a Small Firm Owner"
Jes Stafford – Modus Operandi Design
(@modarchitect)
 "A Day in the Life of MODarchitect
"
Cormac Phalen – Archispeak Podcast
(@archy-type)
"Life in a Day of Panic"