#ArchiTalks: New Year, New Goals
Note: This is the sixteenth post in a group series called #ArchiTalks in which Bob Borson of Life of an Architect gives a group of us architects a theme or a set of questions and we all have to post our response… this month's theme: "New Year, New _____".
The first official #ArchiTalks of 2016 is here, so it seems only fitting that the architects gather around the coffee maker and chat about what new things we plan to do this year. Perhaps this will provide some accountability, too, because if you know anything about the average architect you know that we get wide-eyed with passion and ideas…and then get busy with work and only a couple of the ideas (if we're lucky) get accomplished. So here's my goals for the year for all to see. Keep me honest and accountable in the months to come. There's some really cool stuff in the works!
1. Publish the first AREsketches™ study guide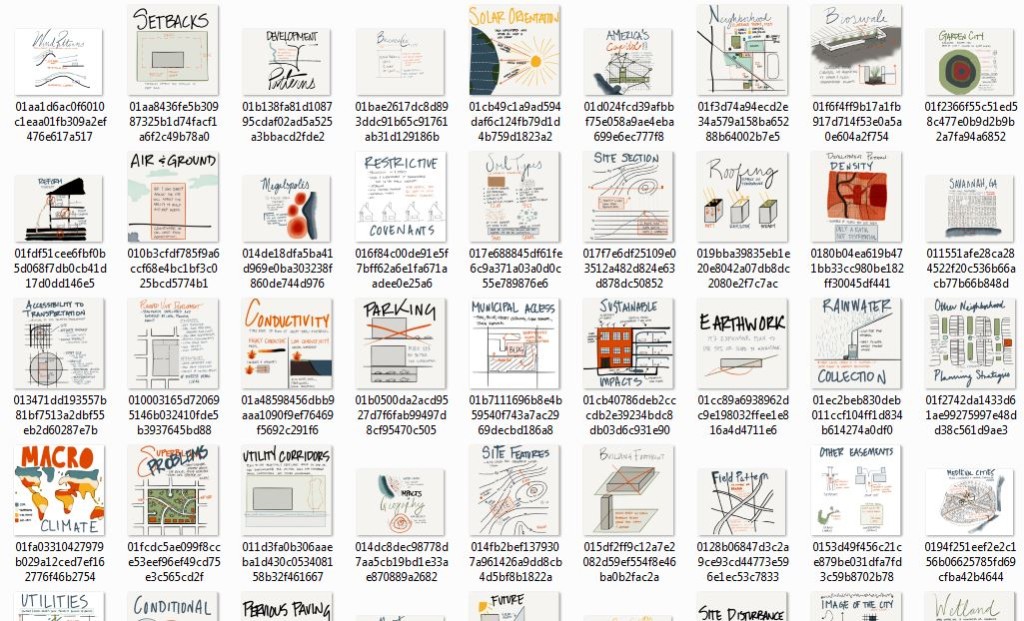 As most of you know, I've been sketching visual study notes since last March from my time during testing, aptly tagged on Instagram as #AREsketches. To date, 177 of them have been published and many more are in the queue. The idea started from a conversation with friends still testing: tips and tricks, pain points of the study process, etc. I mentioned that I found myself sketching out the information I read to make sure I understood it visually and they said they'd love to see them. As I talked to others, they said the same thing. So I started professionalizing them in Paper with my Pencil
, and the #AREsketches were born.
I launched a newsletter for the sketches, giving those studying or simply interested in architecture a sneak peek at the sketches for the week to come and personal lessons learned/study tips alongside them. I'm a month and a half into the newsletter and have 130 awesome people signed up and using them to work hard towards getting their license. The next step – approaching faster than I'd imagined – is to publish all of the initial sketches into a visual study guide flipbook of sorts. I've been chatting with Mike Riscica and Eric Reinholdt about their process and what they learned from publishing their own books as well as doing lots of research on my options. The goal is to publish the first book before AIA National Convention in May and start on the second test section of sketches.
2. Continue to learn & share
Recently I did a 3-part series on mentorship after seeing some conversations about it online and being personally asked how I found and formed some of my mentorships. I by no means feel like a leader on the subject, but after questions from multiple sources, I decided to share my experiences with the importance of, finding, and being a mentor. So I shared and got a lot of great responses – definitely unexpected. As a young architect, most of the time I feel like my thoughts don't hold much weight (the evil impostor syndrome at work – to be talked about in detail in a future blog), but in reality – the inverse is true. Everyone is (hopefully) learning and we're all on this journey together. If I can share my insights and it makes it easier on someone else, even by a fraction of a moment, then it was worth sharing. So my goal in this area is to keep sharing lessons learned and thoughts from the young architect perspective.
3. #ThisOldHouse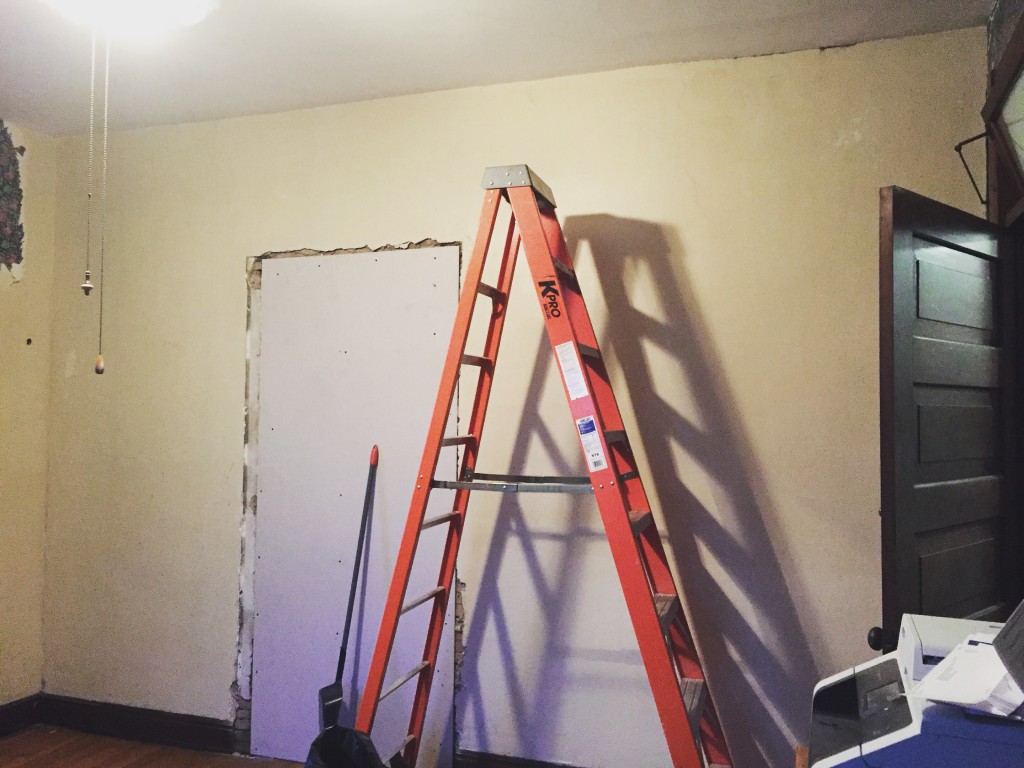 I wrote last week about the goals I have for #ThisOldHouse in the coming year. Check it out here. Some of the projects I'd like to get done will happen quickly and others will slowly form and evolve and I continue to define what I want for the different spaces in my little design lab. In fact, the office will get some more hours on the project after I wrap up this blog. There is a lot of work to be done on this lovely old home and I know it's a marathon, not a sprint, but I'm loving watching it take shape just the same.
4. "Me" time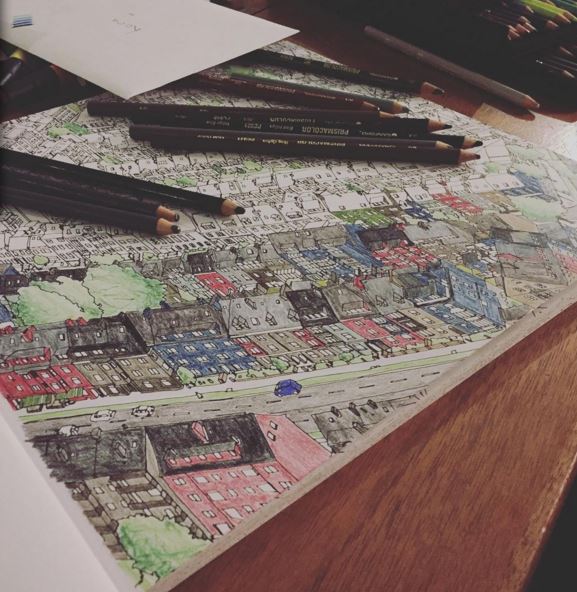 This one is hard. I actually just finished the book "Overwhelmed" by Brigid Schulte, which talked from varying viewpoints and great research about the idea of time for yourself and your friends/family. As a young professional trying to make a place for myself in the world of architecture, my American mindset is to DO ALL THE THINGS…which I did with great abandon these last two years. I still sometimes catch myself trying to do more than is physically possible. As a female, this inclination is even stronger because I know I'm fighting implicit (and sadly sometimes very explicit) bias about my role in a profession dominated by men. Neither desire to help or desire to overcome lead towards taking time for myself or stopping to enjoy the moment. And so my last, but most important goal for this year is to do just that: carve out "me" time, every day. Whether it's coloring in my awesome new coloring books, having a drink or meal with friends, or simply taking myself out for a cup of coffee and time to read a book on a Saturday…I want to slowly, incrementally gain back some time for me. I know it's worth its weight in gold.
Until next time,

Before we hit the blog roll, I wanted to ask you to help out an architect today instead of buying your double-whip-extra-shot-venti-gingersnap-pepperbark-etc…you give to a family in need. Rusty is a friend and fellow architect with a wife and three kids, the youngest of which is fighting for his life. See below for his story and how to help, and then the blogroll will follow.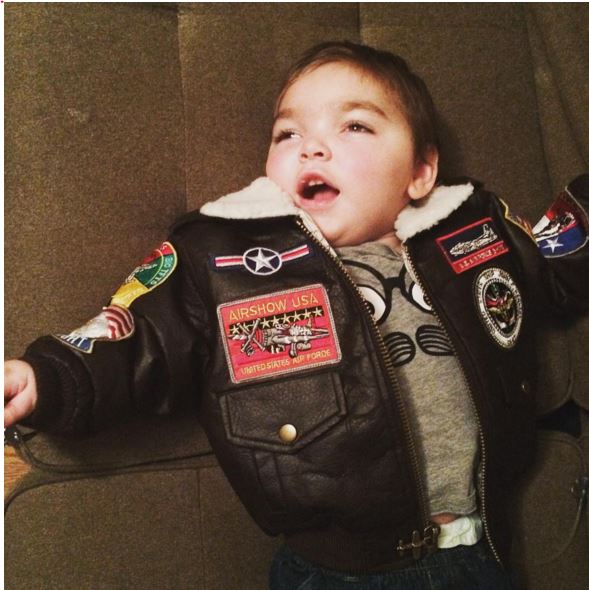 The participants of this ArchiTalks blog post series are asking you to help a friend of ours who is dealing with a family tragedy. Rusty Long is an Architect based out of Portsmouth, Virginia, whose son Matthew is fighting for his life. Here is Matthew's story, as told by his Dad, Rusty:
Matthew Long was born May 29th, 2013, happy, and seemingly healthy. Less than two days later his mother and I found ourselves in an neonatal intensive care unit waiting room, listening to a rushed intensive care doctor explain how our son needed immediate dialysis to save his life. The disease, he briefly explained, was one of a group of disorders called Urea Cycle Disorders, which impact the way the body breaks down protein. We later discovered that Matthew's particular variant is called OTC Deficiency, a particularly severe form of it in fact, which results in a rapid rise of ammonia in the blood, called hyperammonemia, resulting in devastating neurological damage. This form of OTC is so severe, Matthew has virtually no peers who have survived it. Once the immediate crisis was arrested, we came to find out more about the disease and the impact of this initial event.
The disease is inherited, and the damage is permanent. Treatment consists of a combination of medications, low protein medical diet, and ultimately a liver transplant. Matthew was fortunate to experience no additional hyperammonemic events in the following fifteen months of life, and had a liver transplant on August 24th, 2014. The cure for the disease, a transplant, isn't so much a cure as trading one condition for another. While we will never risk the chance of another ammonia spike, Matthew is on a half a dozen or more medications at any given time to avoid rejection. Despite these challenges, intensive daily therapy for cerebral palsy (a result of the initial damage), limited motor function, and various other challenges along the way, our son is remarkably happy and has changed all our lives for the better. He's taught us to be stronger than we ever thought possible, to have faith beyond human understanding, and the immeasurable value of life.
The #ArchiTalks community is hoping to raise $5,500 to help Architect Rusty Long and his family reach their financial goal on
HelpHopeLive.org.
If each reader of this post contributes a small amount, our impact will be massive and we can make a difference for Matthew's family. 
Click here now and donate $2.00. 
  To see the take on "New Year, New ____" from other Architects, follow the links to the others in the #ArchiTalks group who are posting today on the theme:
Bob Borson – Life of an Architect
(@bobborson)
"

New Year, New Adventures that Might Kill Me"
Mark R. LePage – Entrepreneur Architect
(@EntreArchitect)
"

New Year. New Budget."
Marica McKeel – Studio MM
 (@ArchitectMM)
"

New Year, New Adventures"
Lee Calisti – Lee CALISTI architecture+design
(@leecalisti)
"

new race new year new start"
Matthew Stanfield – FIELD 9 Architecture
(@FIELD9arch)
"

New Year, New CAD"
Jes Stafford – Modus Operandi Design
 (@modarchitect)
"New Year, New Gear"
Enoch Sears – Business of Architecture
 (@businessofarch)
"

New Year, New Community on Business of Architecture"
Michael Riscica – Young Architect
 (
@

YoungArchitxPDX
)
"

New Year, New Life!"
Michele Grace Hottel – Architect
 (@mghottel)
"new year, new _____"
Meghana Joshi – IRA Consultants, LLC
 (@MeghanaIRA)
"

New Year, New Plan"
Amy Kalar – ArchiMom
(
@AmyKalar) "

New Year, New Adventures"
Rosa Sheng – Equity by Design
 (@EquityxDesign)
"

New Year, New Era"
Stephen Ramos – BUILDINGS ARE COOL
(
@

sramos_BAC
)
"

New Year, New Home"
Brian Paletz – The Emerging Architect
(@bpaletz)  
"

A Little Premature"
Eric Wittman – intern[life]
(@rico_w)
"

new year, new [engagement]"
Brady Ernst – Soapbox Architect
 (
@bradyernstAIA
)
"

New Year, New Adult Architect"
Sharon George – 

Architecture By George
 (
@sharonraigeorge
)
"

New Year, New Business"
Emily Grandstaff-Rice –
(@egraia)
"

The New New"
Collier Ward – 

Thousand Story Studio

 
(
@collier1960
)
"

New Year, New Business"
Eric T Faulkner – Rock Talk

 
(
@wishingrockhome
)
"

New Year, New Underwear"
Jarod Hall – di'velept

 
(
@divelept
)
"

New Year New Reality"
Anthony Richardson – That Architecture Student

 
(
@anth_rich
)
"

New Year New Desk"
Drew Paul Bell – Drew Paul Bell
(@DrewPaulBell)
"

New Year, New Appreciation"
Greg Croft – Sage Leaf Group
 (@croft_gregory)
"

New Year, New Goals"
Jeffrey A Pelletier – Board & Vellum
 (
@boardandvellum
)
"

New Year New Office"
Aaron Bowman – Product & Process
 (
@PP_Podcast
)
"

New Year, More Change"
Kyu Young Kim
– Palo Alto Design Studio
 (
@sokokyu
)
"

New Year, New Office Space"
Rick & Cindy Black – Rick & Cindy Black Architects
 (
*
)
"

New Year, New Casita"
Jared W. Smith – Architect OWL
 (
@ArchitectOWL
) 
"

New Year, New Reflection"
Rusty Long – Rusty Long, Architect 
(@rustylong) 
"

New Year, New Direction"
Brinn Miracle – Architangent 
(@simplybrinn) 
"New Year, New Perspective"
Nicholas Renard – Dig Architecture 
(@dig-arch) 
"

New Year, A New Hope"
Jeremiah Russell – ROGUE Architecture 
(@rogue_architect)
"

new year : new choices"