#A17con Recap, Day 1: Presentations and parties
With the Epcot experience and a full day of walking, despite the nerves that I felt for the day ahead, I finally got some good sleep. My sister arrived at the hotel at 5:30am from her Sacramento red eye, and so while she got some sleep, I started my day. I practiced my presentation in the shower, testing my memory and walking through the slides in my head. I got ready both mentally and physically for the day ahead. Katie continued to sleep and I headed off to the vast convention center for the first keynotes of the conference.
The theme of #A17con day 1 was "Anticipating Need" and the keynotes did not disappoint. The first architect to speak was
Francis Kere
, an architect from Burkina Faso who was the first child in his village to be sent to school. He talked about his upbringing in Gando and his educational experience at university in Germany. He discussed the process of returning to a place where need was visible, but the tools were different from where he had just finished studying. His story was one of anticipating need and helping a community through many small steps that build trust.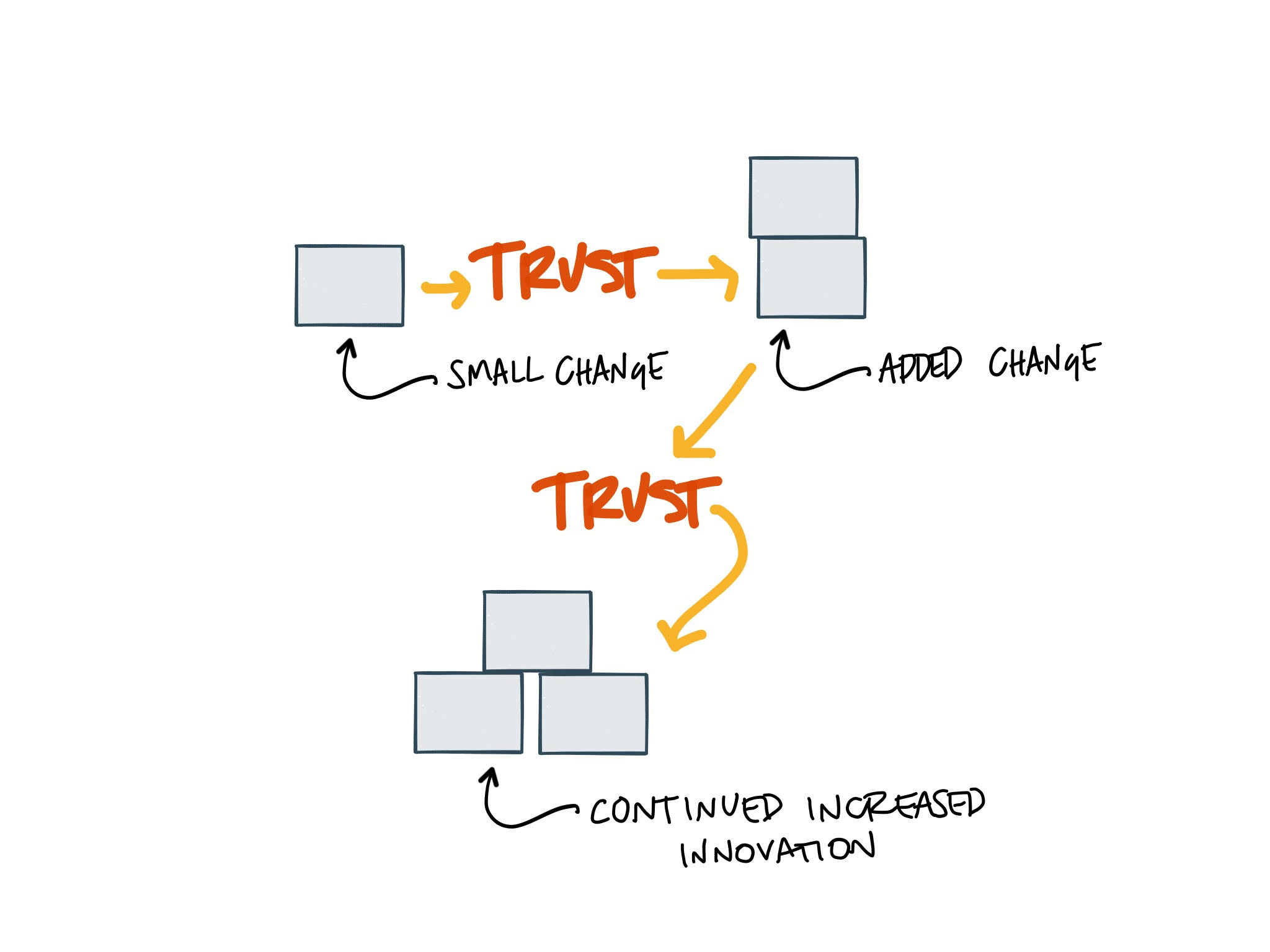 Each project he performed alongside community members, who invariably helped in construction, added a new method for improving the building infrastructure and construction process in a new way. The first project used clay in a new way, creating mock-ups to prove it was stable in an arch form, before implementing it in the school's design. With that base layer of trust, he went a step further on the next project, using laterite in a new way and teaching the community members new construction skills. He implemented metal and eucalyptus to help reinforce walls and raise ceilings, allowing natural breezes to flow through the classrooms.
Instead of continuing to build cramped, dark classrooms, which the community labor force already knew how to build but weren't helping the future generations learn or stay healthy, he gained their trust, incrementally adding new techniques, and created a building stock that not only serves their intended purpose, but gives the community a place to gather, a hearth to call home, and a place that cares for them in return.
Michael Murphy of MASS design group picked up where Francis left off, bringing more energy and excitement to a topic that isn't always easy to talk about in architecture: creating space for those not previously given respect and restoring dignity to a community by creating a place that cares for its users and community not only physically, but mentally, emotionally, and economically. He showed through his portfolio of work how architecture could be used to fix physical health issues in a third world country while at the same time investing in the town and its people by hiring artists and integrating a place's culture into the process of construction and healing. His work for the Holocaust Memorial stood as a stark reminder that just as our work can be used to create healthy, happy people, to right wrongs and return dignity, we must be vigilant in ensuring architecture is not used for evil. After all, Hitler had an architect to design his destruction.
"Will we allow our work to be used as a weapon of intolerance or will we use it as a tool to strengthen community?"
The other two architects to round out the keynote were Elizabeth Diller and Alejandro Aravena, who also talked about the importance of public space in strengthening communities. Alejandro reinforced this with the following comparison: "Public space provides value. The ratio of public to private land in a slum is 1:10. In Manhattan? 1:1." What I found was most captivating was his simple use of a whiteboard, on which to sketch to drive his points home – but I guess that's probably not a surprise with my interest in sketching to get ideas across.
We broke for sessions, lunch, etc before Michelle Obama (woot!) would take the stage in a special keynote. For some, that meant leaving the morning keynote at 10:30am, walking to the nearby food court and getting a coffee or muffin (the actual lunch places didn't open until 11) and going and standing back in like to get a front row seat. I opted to sit where I could keep an eye on the line, forced myself to eat something, and practiced my presentation some more. By 11:20, the line was growing and by noon the doors opened. Time for Michelle Obama!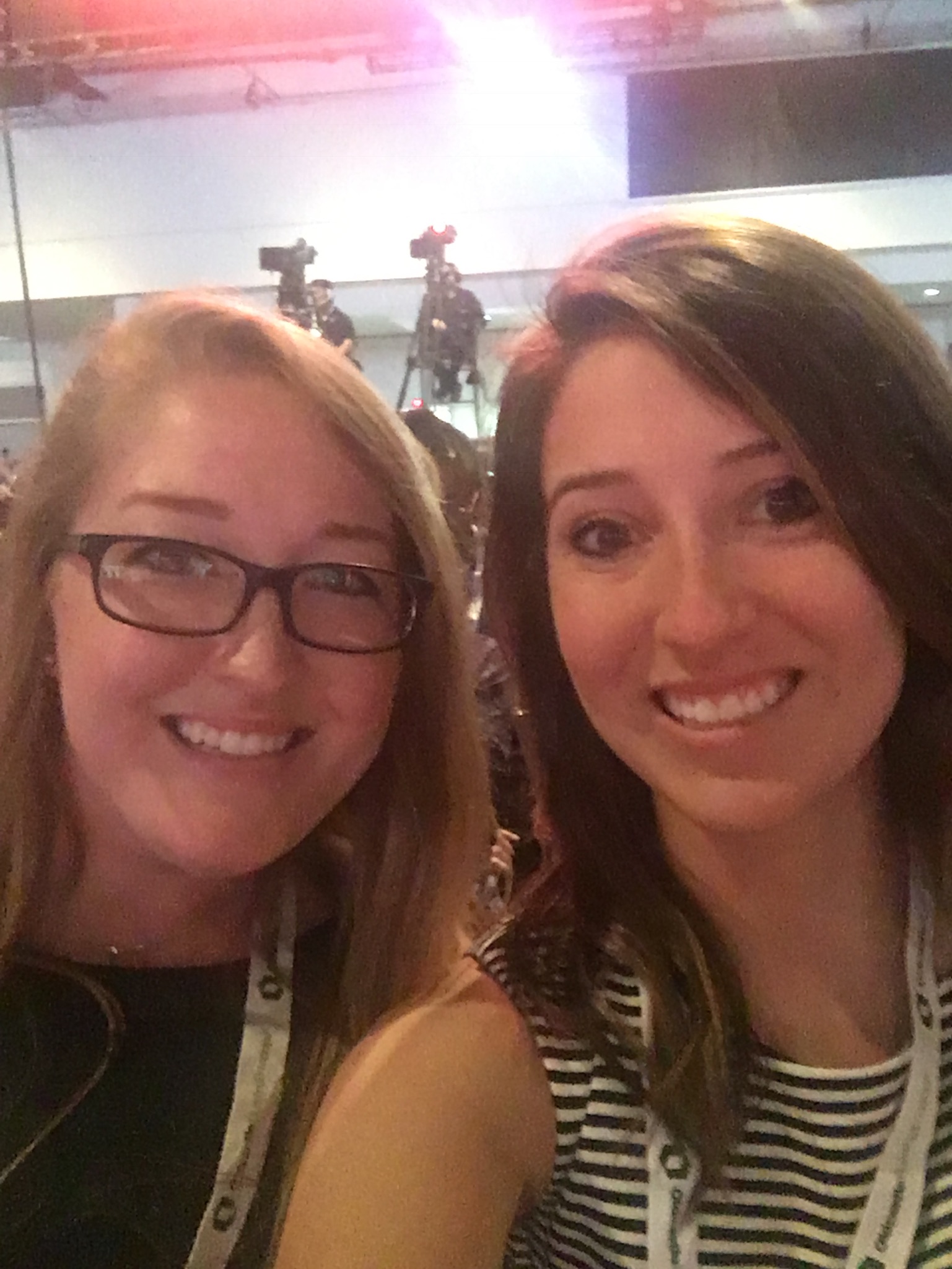 When my sister decided in January that she wanted to come see me get my award, I asked her if she wanted to see any keynotes. Architects? Nah. NASA? Meh. Amy Cuddy? Beach day. She declined the architecture nerd fest on all fronts. When I got the email (ironically while standing in the airport headed out to surprise her for her birthday) that Michelle Obama was coming, I quickly texted – asking if she wanted to attend a keynote and see her speak. I got a resounding "YES!!!" and some GIFs of people jumping for joy. Needless to say, we were pumped and Michelle Obama did not disappoint.
From talking about working alongside TWBTA to ensure contextuality of the Obama Library to larger thoughts on equity and mentorship, it was a delight to hear her thoughts. She shared personal stories about what work life balance looked like for her and the struggles she fought and still fights on behalf of others. She talked about the importance of those who have succeeded in overcoming their struggles to continue to push and better the lives and odds of success for those still struggling. One of her comments that has stuck with me the most since her talk is:
"You can't recruit from a pool that doesn't exist. You have to build the pool."
There will definitely be more on that later as I continue to unpack that definitive and refreshing take on mentorship, but it's more than I can get into now, especially as I haven't fully fleshed out what it means to me and my path.
I, unfortunately, had to leave her talk a little early (it started late) because my presentation was next. I rushed to the room, got mic'd up, and blacked out.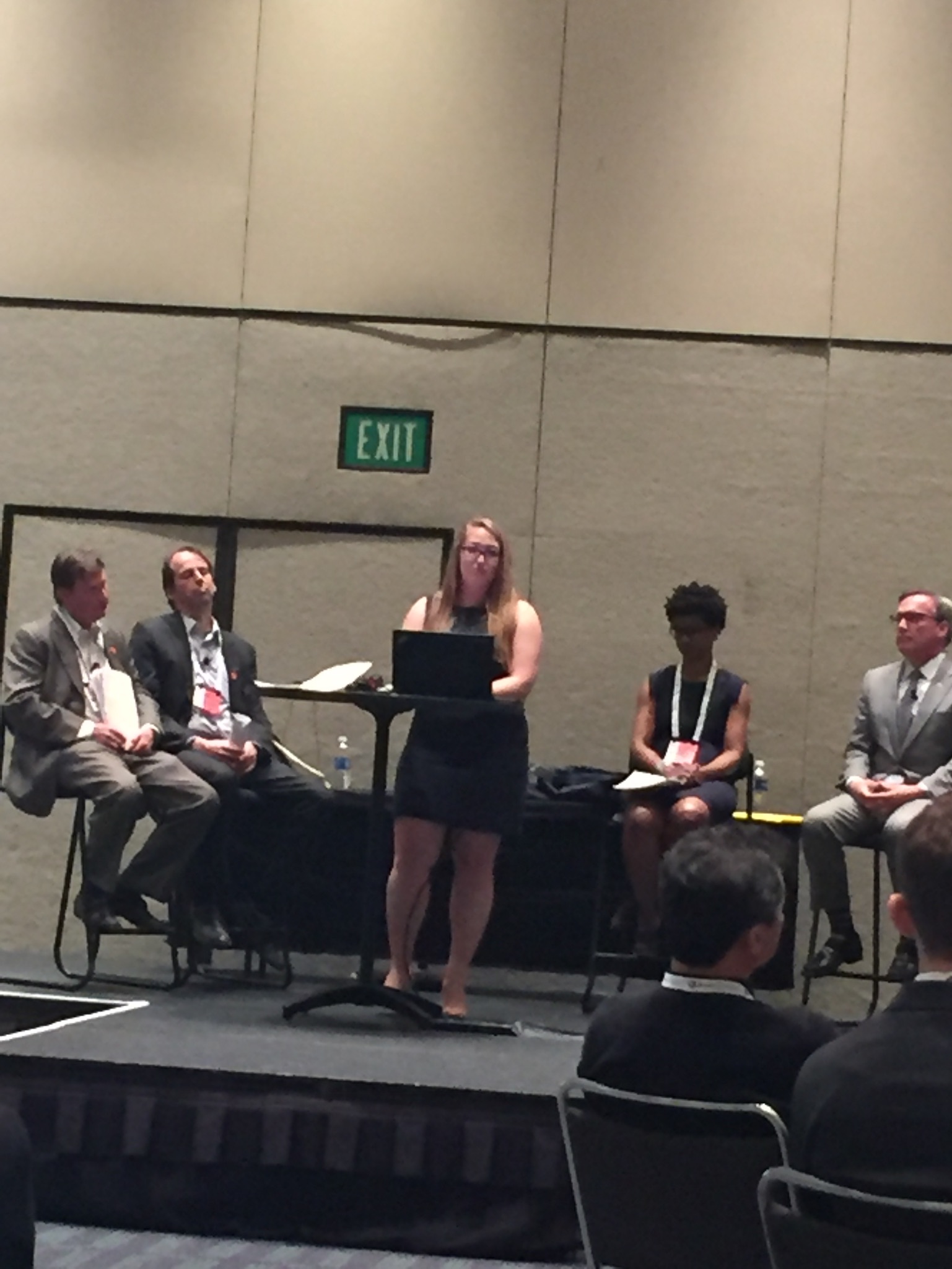 …not literally. But I've learned from the few presentations I've done that I get so nervous with these things that I zone out during my talk and practically can't recall it after the fact. That's why, joined with my "humble Hoosier" mentality, I said "I think it went okay" to everyone who asked me after the fact how the presentation went. Katie was a good cheerleader who always followed up with, "No – it was great!" I do think my choice to take a different direction with the presentation – talking about career paths, how they can be different, and what to look for as you navigate your own – was helpful to some of the younger members in the audience more than simply "here's my portfolio", so it worked if it helped someone.
After the presentation, I quickly jumped out of my heels and hoofed it to the Honors & Awards ceremony location, scheduled for right after our presentation. I got called a "dynamo", celebrated with friends, mentors, and family, and gave Tom Vonier bunny ears on stage. I'd call it a success.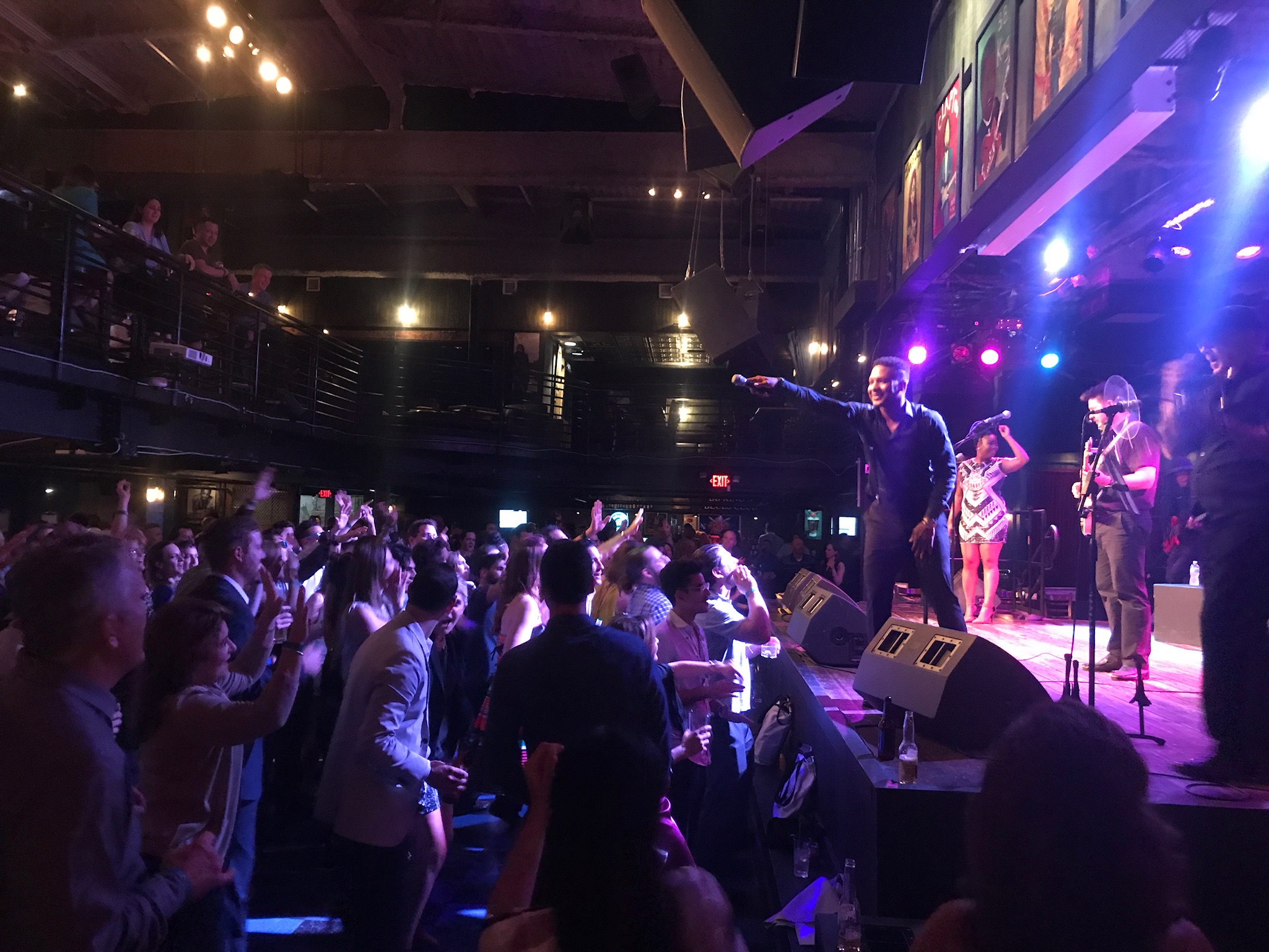 My sister, dad, and I – as well as some of the other AIA Indiana contingent – had to leave the Awards right after the ceremony was done to start the (now familiar to me, baptism by fire for Katie) ritual of trying to make it to all of the happy hours and parties you have been invited to and invariably overlap. I tried to warn Katie about how crazy it would be but I think it still surprised her. The evening consisted of an already missed AIA Indiana happy hour, an alumni reception, the College of Fellows party, the EntreArchitect meetup, and the EP party. Each was great in its own way and provided the ability to meet up with different friends and peers. All in all, a successful day that technically did not end until the next day had rung in.

This is the second in a series of recaps about my #A17con experience. Check back tomorrow to read about Day 1, including Michelle Obama, my presentation, and the craziness of conference evening schedules.